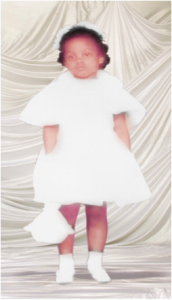 Each person is uniquely designed by the hand of God, the master designer.  His blueprint for our lives is filled with amazement, mystery, wonder, testing, trials, tears and great joy.  As a child, singing was a satisfying and mesmerizing part of my life.  I spent hours and hours of joy singing alone with the artists on the radio.  I still remember Casey Kasem's top 10 songs being played as I gleefully sang along and alone. I never had a desire to sing before an audience; my greatest moments were spent  singing  in private and  being caught up in the song. The songs I sang during those days were secular songs along with the church songs on Sunday mornings at church.
At 30 years of age, I asked Jesus into my heart and asked Him to be my Savior and Lord.  My desire for the secular died and the desire for the sacred consumed my life and my passions.  I truly believe the scripture that says "Therefore, if any man be in Christ, he is a new creature; old things are passed away; behold, all things are become new" (2 Cor. 5:17). With Jesus now the true passion of my heart, again I began to separate in private and sing sacred songs of love to Him, to His honor and to His glory. I soon concluded that nothing else satisfies.  At present, it has been 30 years since I surrendered to Him and my passion, commitment, and desire for the things of God have not changed.
My purpose for this website is to minister to others through song, words of exhortation, biblical teachings and prayer. This site will also host special interviews with others who are serving God and reaching His people through their special gifting and talents.
Gospel music is medicine to the soul, gospel music is a vehicle used to transport us into the presence of the King, gospel music releases purpose and hope and the power of God into our lives. I've witnessed on many occasions the anointing (yoke-destroying power) of God being deposited on His children through the singing of gospel music. Secular music does not possess the anointing!
Amazing Grace is one of my favorite songs. I will always remember singing that song at the hospital bedside of a man named Mr. Bond. Mr. Bond hummed the first verse of Amazing Grace and actually sang to second verse along with me. His wife was absent from the room at that moment. When I mentioned to her the incident, she looked in amazement and said "he has not spoken in five years." Suddenly, I knew beyond a shadow of a doubt, that music is a powerful tool. It brings life in the midst of death.